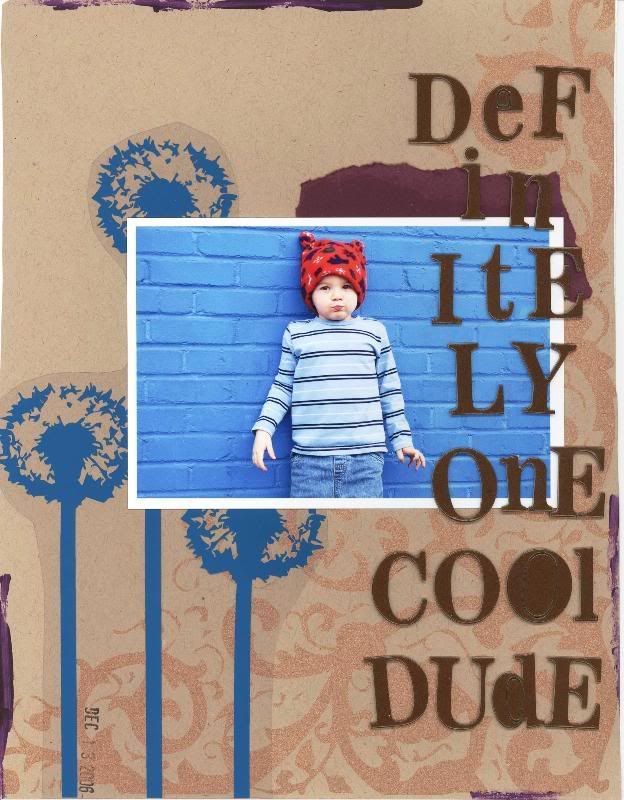 i did one. but this isn't it. can't post it yet. so in its place, here's a LO i did for the jan SG newsletter. nothing like a little hambly. then a little more hambly. a little HS (chipboard alpha). mix in a little bazzill, a little paint. what do you get? a happy me.
side note: i'm down 24 lbs. well, it's really more than a side note for me. one more pound and i will be down to the weight i was when james and i met.....oh soooooooooooooooo long ago. but i'm not stopping at that one lb. i haven't decided my ultimate goal, i just know i'm not there yet.
let me just add i'm stoked that i lost three lbs this week. after gaining 1 during christmas, then losing ONLY that 1 the week after christmas i was beginning to get a little bit discouraged. now my resolve is firm. as long.....that is....as i save enough points for starbucks, m&m's and the occasional chunk of chocolate right out of the package. i'm even learning to enjoy hot cocoa (made at home....GASP...) add in a little fat free cool whip and voila. a nice beverage to help keep my freezing ass warm. it's freaking cold here.